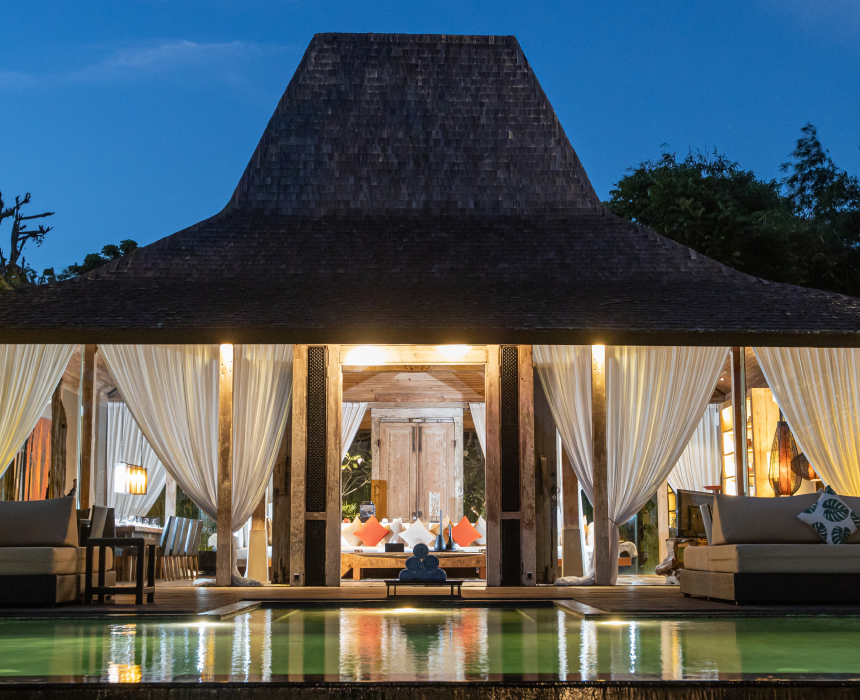 THE JOGLO
A tale of beauty and historical preservation.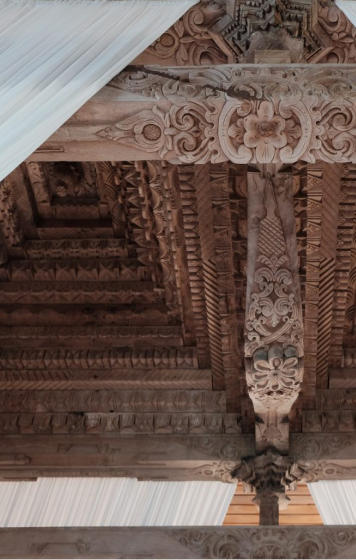 TUMPANG SARI
As you lay on Khayangan's comfortable king-sized bed, your gaze will surely fall upon the striking intricacy of the carvings decorating the canopy ceiling.

The carving starts beneath the four house pillars and leads to the roof, which becomes higher as it nears the centre in the form of an inverted pyramid. These Intricate carvings showcase the traditional patterns and flowers migrating to the middle of the pyramid where a blooming flower rests.

This elaborate decor feature, referred to as Tumpang Sari, holds an important significance in the Javanese culture. Its rising structure is believed to represent God Almighty, illustrating that above the sky, there is always a higher sky and above that, there is no higher power than God.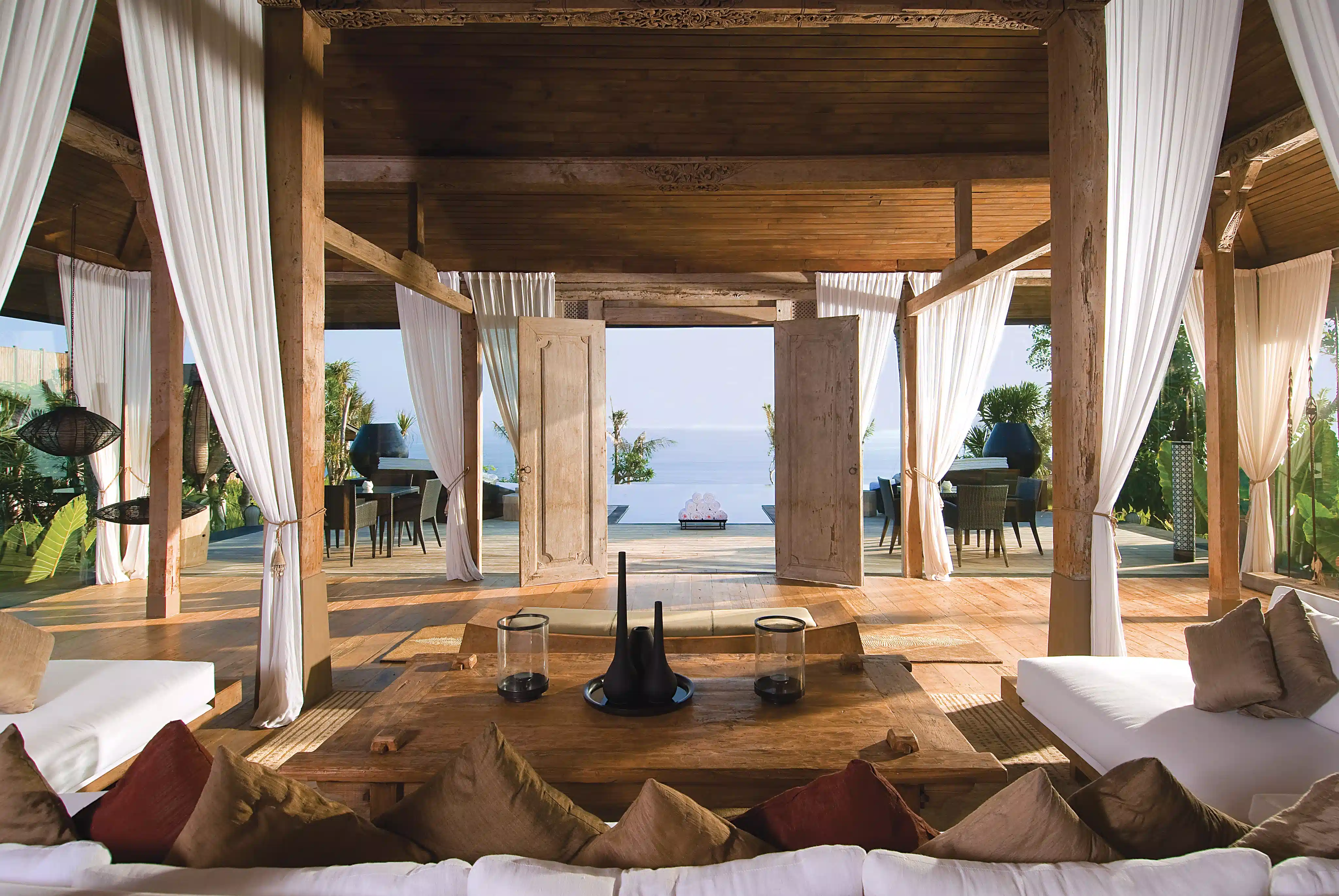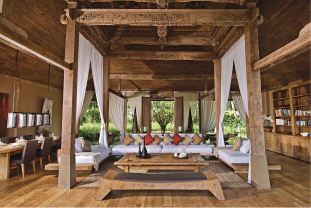 Living Room
A Special Place
The living room in Khayangan Estate is indeed a very special place. Occupying the oldest joglo in the entire Khayangan Estate, it bears an important significance as the keystone that holds the whole complex together and in turn serves as a gathering place for families to come together to dine and relax. The joglo also serves as a recreational room sporting a collection of traditional games families can play.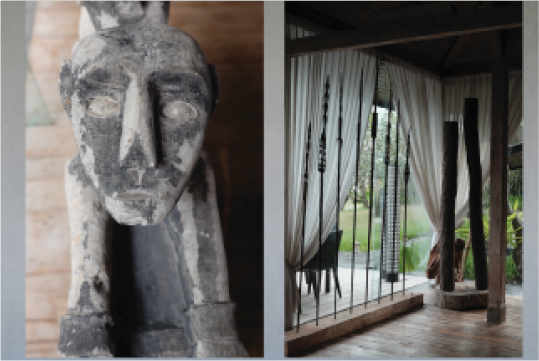 SUMBA STATUE
The Heart of The Estate
Acting as the heart of Khayangan Estate, the living room is finely decorated with ornaments and artifacts from across the archipelago. A collection of tombak (spears) from different parts of Indonesia is on display near the door. Funky wrought iron lamps and lanterns scattered aesthetically across the room, while two man-on-horse statues from Sumba in eastern Indonesia guard the back door.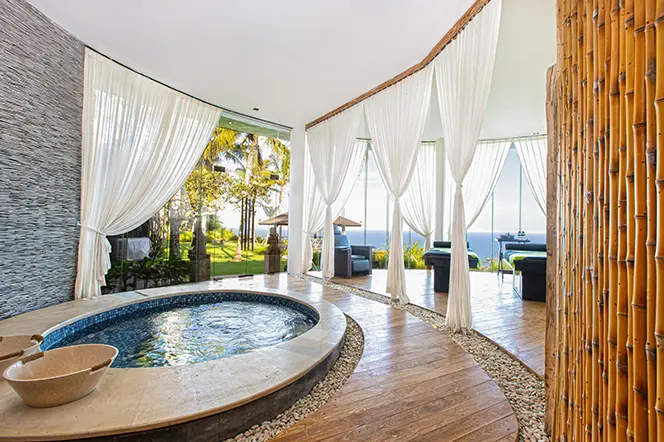 SEVENTH HEAVEN SPA
High Cliff
Perched high atop the cliff of Selonding beach, the Seventh Heaven Spa was built to mimic the natural symmetry of a conch shell to match its ocean surroundings. The private spa features all ranges of treatments based on traditional Asian health and beauty remedies. This spacious sanctuary features a private massaging section with floor-to-ceiling glass overlooking the ocean, outdoor plunge pool, sauna room, as well as a manicure and pedicure station.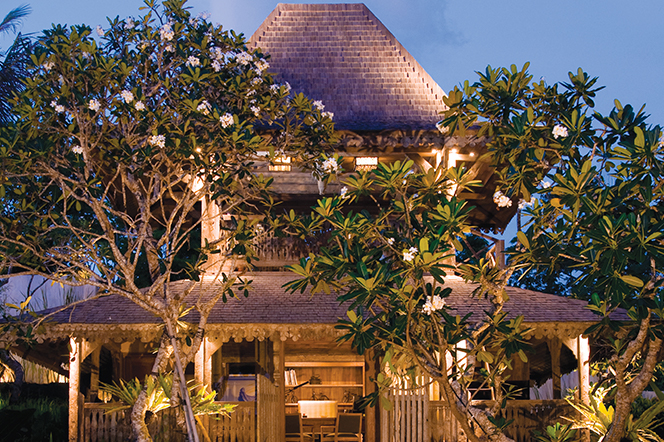 BUSINESS CENTER
A Distinguished Construction
Unlike the rest of the Javanese buildings in Khayangan Estate, the business center occupies a traditional Betawi house, which originates from a native ethnic group near Jakarta. A Betawi house is commonly referred to as Rumah Kebaya or Kebaya house, which is derived from the shape of its roof that resembles a fold of the traditional Kebaya dress. Simpler than a traditional joglo, Rumah Kebaya is commonly divided into two main parts: the front section is designated for the public while the inside is reserved for family members only.